Exploring enchanting Hoi An as night falls
Director of H?i An s Culture and Sports Centre, Vo Phung, said more than one million tourists had joined 230 programmes between 1998 and 2018.
Quaint: An old quarter street corner. — VNS Photo Cong Thanh
He said the programme had received the support and participation of local businesses and residents of the old quarter.
"We revived tuong (Classic Drama) and bai choi (a cross between a game and a performance with a deck of cards – bài – and bamboo huts – chòi)," Phùng said. "We hold folk games on the 14th day of every lunar month to draw more tourists to the city."
"Demonstrations of folk games and crafts are held on the banks of the Hoai River to expose tourists to the work of craftspeople and artists," he said.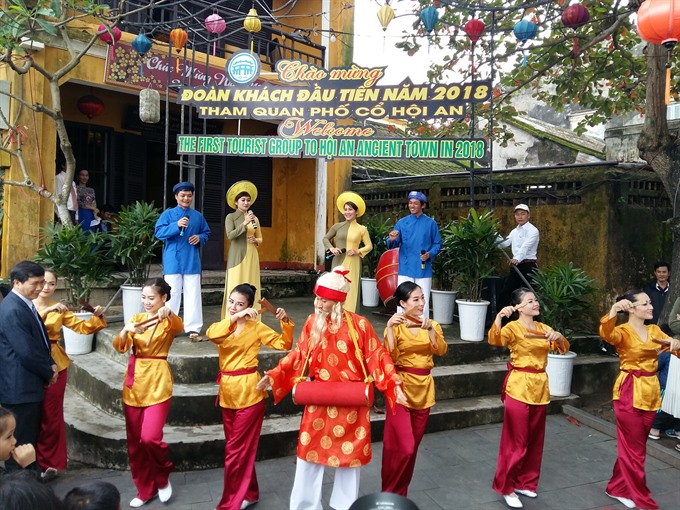 All singing, all dancing: A traditional performance for tourists visiting the old quarter. — VNS Photo Cong Thanh
He said the programme, held once a month, starts at 6:00pm and runs until late at night.
The city has tried to recreate the daily lives and culture of early 20th century Hoi An residents.
Local restaurants and hotels decorate the old quarter with lanterns and serve tourists visiting for the programme or just to catch a glimpse of the ancient city at night.
Thanks to the programme, the city has seen a boost in shopping, lantern production, food service and night tours. This has led to better incomes for residents of the UNESCO-recognised world heritage site.
Enthralled: Tourists enjoy Bài Chòi, a folk performance at the An H?i Sculpture Park. — VNS Photo Cong Thanh
Vice Chairman of the city's People s Committee Nguyen Van Son said the "legendary night" was an official event in Asia-Pacific Economic Co-operation (APEC) 2017.
He said the city had expanded its pedestrian streets to create more safe destinations with fresh air.
On the 14th and 15th days of each lunar month (known as full-moon day), since the old city was recognised as a world heritage site in 1999, the people of Hoi An illuminate their houses, restaurants and streets with lanterns.
Tradition: A night market is lit up by lanterns on a street by the banks of Hoài River. — VNS Photo Cong Thanh
The city started selling package tickets to tourists in 1995, using most of the revenue from ticket sales to preserve old houses and support nighttime cultural performances.
H?i An had already successful held community tourism activities including farming, fishing, boat rides and biking along with other festivals and art exhibits such as the silk village, lantern festival and pottery display.
The city was chosen for the 2013 Townscape Award by the UN-Habitat Regional Office in Asia, and was listed among the top 10 Asian cities in US magazine Conde Nast Traveler's Readers Choice Awards in 2012.
Engrossed: Local residents play a game of Chinese chess in the old quater of Hoi An. — VNS Photo Cong Thanh
Covering an area of 60sq.km, the city has 22.5sq.km of agricultural and forest land and 11sq.km of lakes and channels.
A survey showed that 27 per cent of international tourists who visited the city came to learn about its culture and history and to see the Chàm Islands-H?i An world biosphere reserve.
H?i An hosted nearly three million tourists, including two million foreigners, in the first half of 2018.